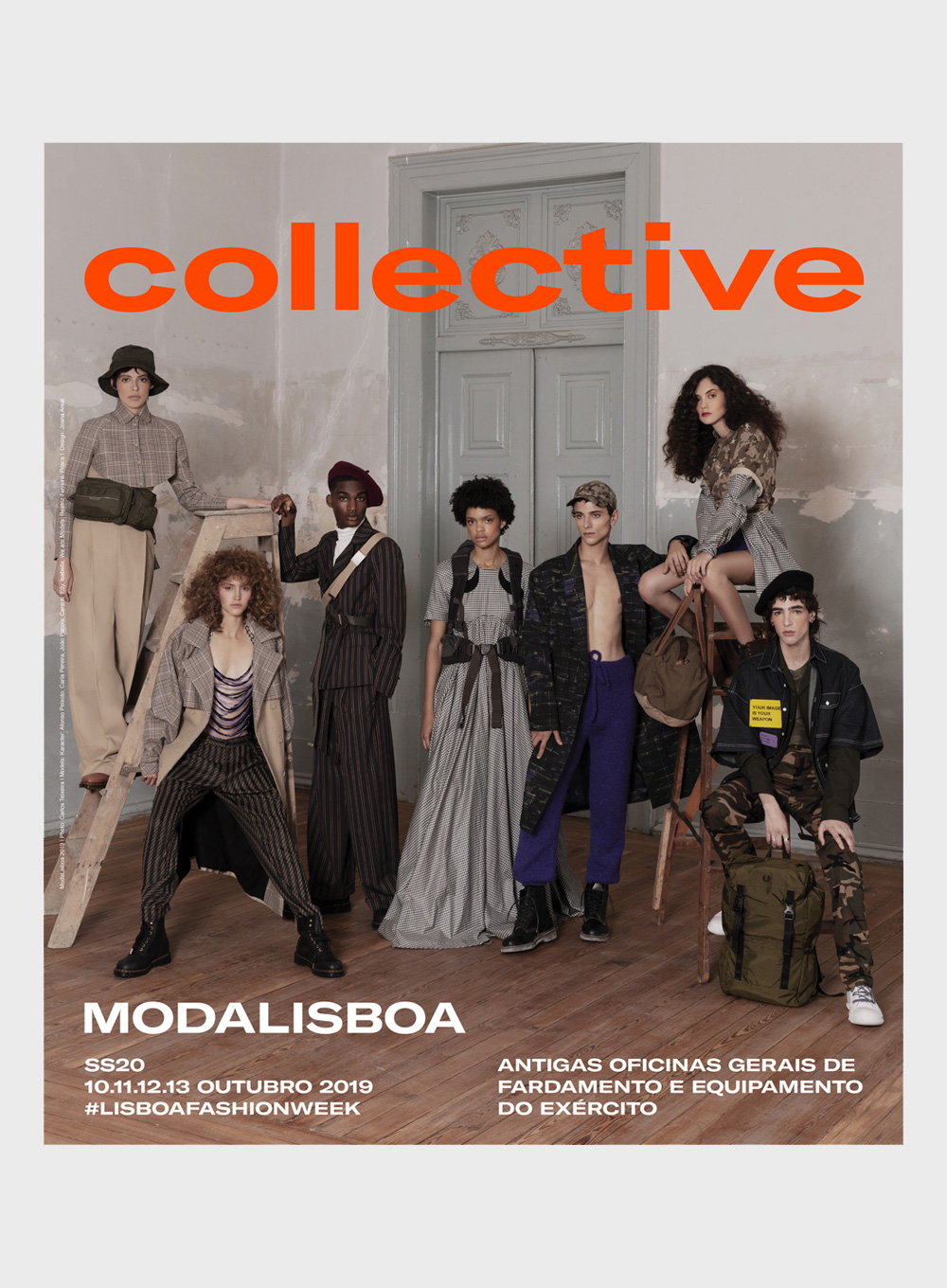 Photo: Carlos Teixeira
Models: Afonso Peixoto, Carla Pereira, João Pacola (Karacter); Edy, Isabella (Central); Beatriz Ferreira, Prisca (We Are)
Design: Joana Areal
COLLECTIVE is the belief of union. It's plurality in a word. From 10 to 13 of October 2019, we forge new channels of communication in all platforms touched by fashion. We have shows, talks, exhibitions and events within the bigger event, so all voices be heard, so all voices be united in one. We question, we start over, we build again, we work together towards a more sustainable fashion industry, fairer, ethical, bigger. We work together for a better world. We do not have fear to answer back because we never had fear to ask. And much less from moving forward.
Fashion is the future. And the future is collective.
SS 20
10. 11. 12. 13 OCTOBER 2019
OFICINAS GERAIS DE FARDAMENTO E EQUIPAMENTO DO EXÉRCITO
FASHION SHOWS
Aleksandar Protic
António Castro . Workstation
Archie Dickens . Workstation
Awaytomars
Carlos Gil powered by Portugal Fashion
Carolina Machado . Lab
Constança Entrudo . Lab
Cristina Real . Workstation
#DecenioAlexandraMoura powered by Portugal Fashion
Dino Alves
Duarte . Lab
Federico Protto . Workstation
Gonçalo Peixoto . Lab
Hibu . Lab
Imauve . Lab
João Magalhães . Lab
Kolovrat
Luís Carvalho
Luís Onofre powered by Portugal Fashion
Nuno Gama
Olga Noronha
Opiar . Workstation
Patrick de Pádua powered by Ambitious
Ricardo Andrez
Ricardo Preto
Rita Afonso . Workstation
Stoners by Colisão Studios X Assimagra
Valentim Quaresma
SANGUE NOVO COMPETITION
André Santos; Beatriz Julião; Cêlá; Feliciano; Ferencz Borbala; Filipe Cerejo; Flávia Brito; Francisco Pereira; Inês Manuel Baptista; Louis Appelmans
The Feeting Room Award: Cêlá
PROJECTS / OTHER EVENTS
Check Point
Fast Talks
Wonder Room
Workstation – Photo and Illustration Exhibition
Portuguese Shoes – Apiccaps Exhibition
ModaPortugal Showcase