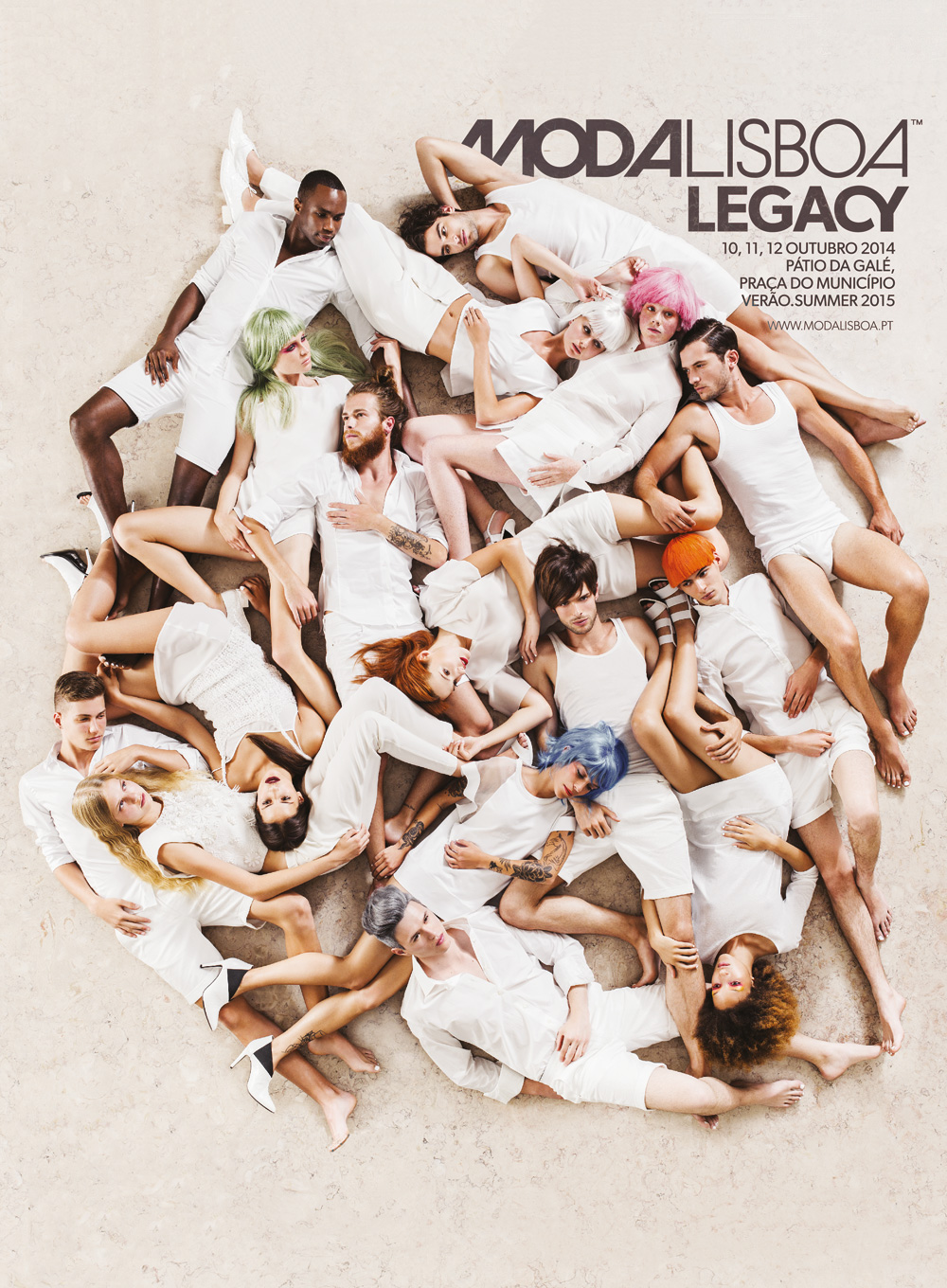 Art Direction: Pedro Ferreira | Y&R
Photo: Pedro Ferreira assisted by Miguel Tainha
Design: Y&R
Fashion passes the testimony, the knowledge and the know-how. But does not go out of fashion. Fashion assumes the responsibility of life experience, the dynamic history, the artistic identity and the creative legacy that remains. Lisboa Fashion Week respects the past that is gone, the trial that we live, the changes that we suffer.
LEGACY is an ongoing process and a renewed energy that dreams, travels and projects, and sometimes needs to return home to recognize the new traditions, teach values, leave legacy as prove of existence and art signature, fashion and new blood. LEGACY is inspired on the idea that reconstruction doesn't imply the oblivion, the new doesn't erase history, and tradition can repeat itself in another time or period.
SS 15
10. 11. 12 OCTOBER 2014
PÁTIO DA GALÉ
FASHION SHOWS
Alexandra Moura
Carlos Gil
Christophe Sauvat
Cia. Marítima
Dino Alves
Filipe Faísca
Kolovrat
Luís Carvalho . Lab
Michał Szulc
Miguel Vieira Man
Miguel Vieira Woman
Nuno Gama
Pedro Pedro
Ricardo Andrez . Lab
Ricardo Preto
Saymyname
Valentim Quaresma
SANGUE NOVO COMPETITION
Andrea Lazzari; Banda; Catarina Oliveira; Cristina Real; Inês Duvale; Joaquim Correia; Juliana Cunha; Nair Xavier; Olga Noronha; Rua 148
FashionClash Award: Inês Duvale
PROJECTS / OTHER EVENTS
Fast Talks
Wonder Room
Workstation – Photo exhibition
"Por Detrás das Sombras" – André Ópticas Collection's exhibition
"A 1ª Ceia | griffehairstyle" – Photo exhibition
"Sourire Intemporel" – Photo exhibition by Antónia Rosa and Nuno Beja
"Silent Steps in Empty Rooms" – Project for Mente Magazine by Vasco Colombo and Antónia Rosa