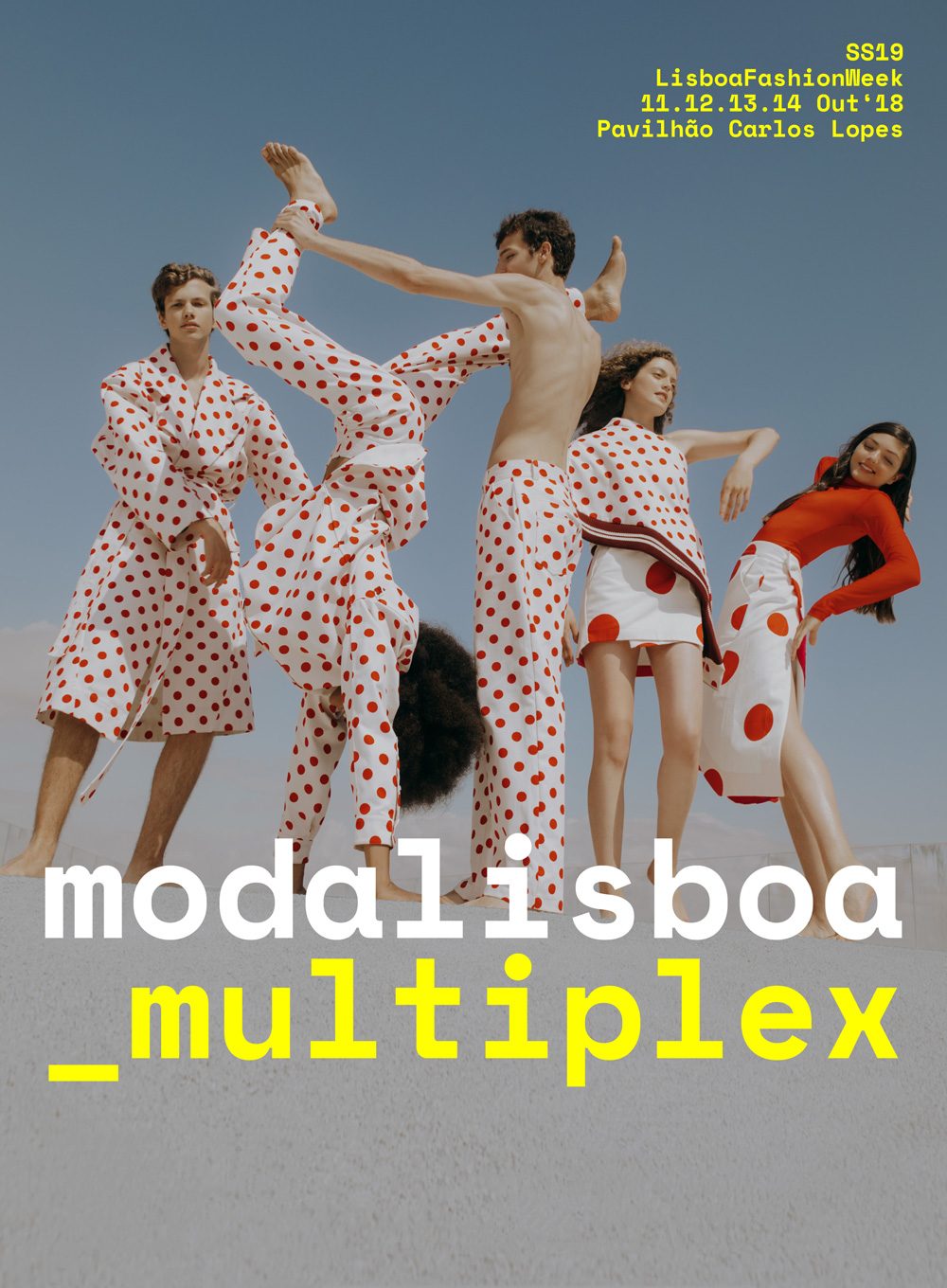 Photo: Ricardo Santos
Models: Inês Carvalho, Maria Rosa, Diogo Reis, Joaquim Arnell (We Are Models); Lucas Ribeiro (Karacter)
Design: Joana Areal
There have been and will continue to be many attempts to pacify fashion, to close it within one single concept, to confine it to a single space, to define it in one way only, to see it in a single perspective. MODALISBOA has always fought and will continue to fight against this urgency in reducing, taming and categorizing fashion, as if it was a custom hanged on a closet, a frame that we look on without thinking or a piece of art transformed into a status object and individual ostentation.
MODALISBOA MULTIPLEX mirrors the lively, organic, multipurpose, multidisciplinary, gathering and unpredictable way as Fashion evolves in the world and among people.
SS 19
11. 12. 13. 14 OCTOBER 2018
PAVILHÃO CARLOS LOPES
FASHION SHOWS
Aleksandar Protic
Alexandra Moura powered by Portugal Fashion
Andrew Coimbra . Lab
António Castro . Workstation
Awaytomars
Carolina Machado . Lab
Cia Marítima
Constança Entrudo . Lab
Cristina Real . Workstation
David Ferreira . Lab
Dino Alves
Duarte . Lab
Filipe Augusto . Workstation
Filipe Faisca
Gonçalo Peixoto . Lab
Imauve . Lab
João Oliveira . Workstation
Kolovrat
Luís Carvalho
Nuno Gama
Olga Noronha . Lab
Patrick de Pádua . Lab
Ricardo Andrez
Ricardo Preto
Tiago Loureiro . Workstation
Valentim Quaresma
SANGUE NOVO COMPETITION
Archie Dickens; Carolina Raquel; Federico Protto; Opiar; Pu Tianqu; Rita Carvalho; Saskia Lenaerts; The Co.Re; Víctor Huarte; Vítor Antunes
FashionClash Award: Carolina Raquel
The Feeting Room Award: The Co.Re
PROJECTS / OTHER EVENTS
Check Point
Fast Talks
Wonder Room
Workstation – Photo and Illustration Exhibition
Portuguese Shoes – Apiccaps Exhibition
Portuguese Jewellery . Shapers 4.0 – AORP Exhibition
ModaPortugal Showcase