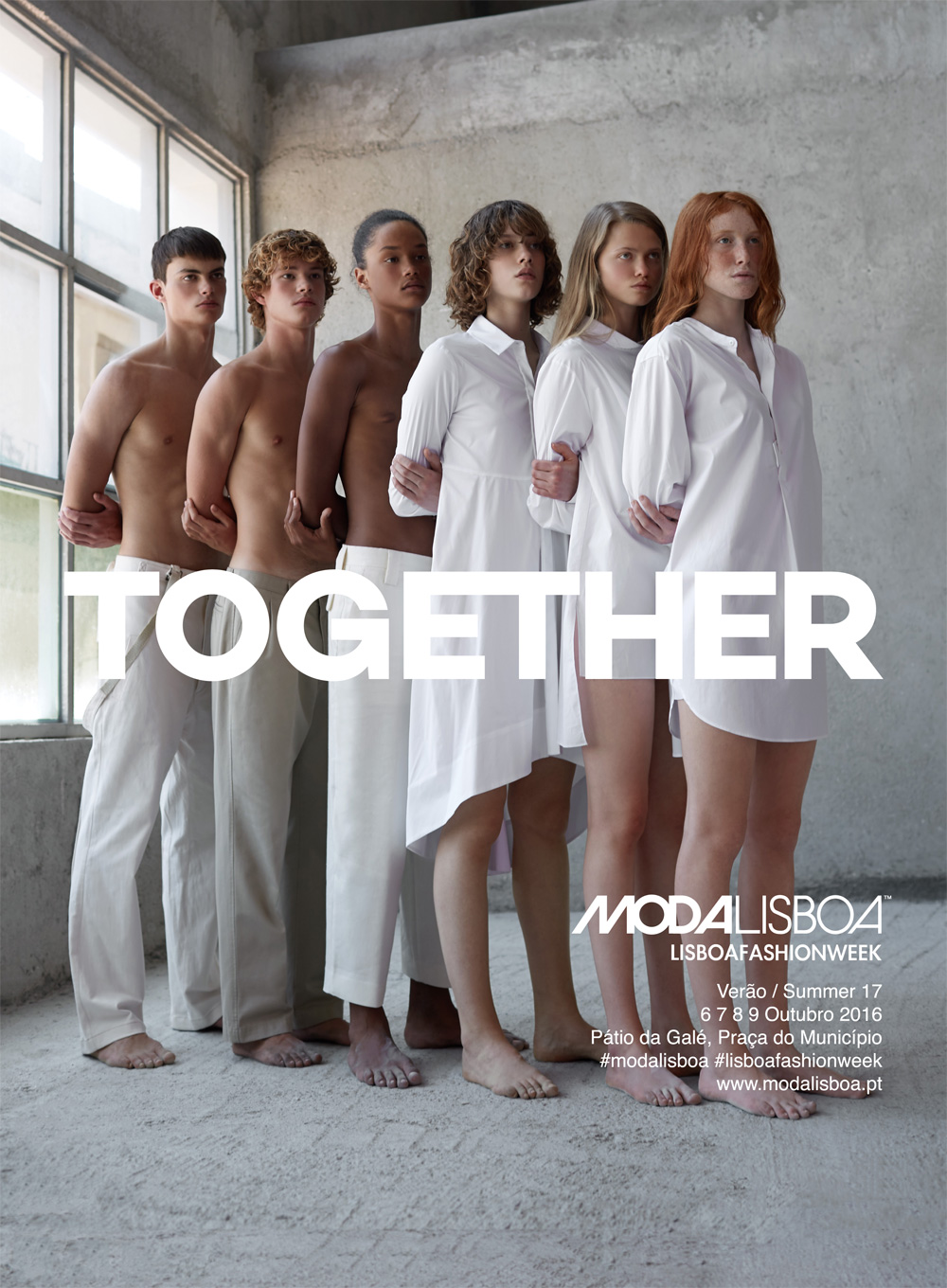 Photo: Rui Aguiar
Models: Clara Riedenstein and Daniela Hanganu (Central); João Batista (L'Agence); Joaquim Arnell, Sigrid Vieira, Thomas Vankeulen (We Are)
Design: thisislove studio
After 25 years, we are together. We are together in the recognition of the heritage that we have created, in the trust that we placed in the development of our designers' brands, in the constant search for new talents, in the collective dialogue we fight every day with the public and fashion.
After 25 years, we are present. We are present in this need to question what surrounds us, in this desire to interpret the time, in this ambition to continue building the future of fashion.
After 25years, we are together and we will continue together. Because ModaLisboa are all together and no one.
SS 17
06. 07. 08. 09 OCTOBER 2016
PÁTIO DA GALÉ
FASHION SHOWS
Awaytomars . Lab
Catarina Oliveira . Lab
Christophe Sauvat
Cia Marítima
David Ferreira . Lab
Dino Alves
Filipe Faísca
Kolovrat
Luís Carvalho
Morecco . Lab
Nadir Tati
Nuno Gama
Olga Noronha . Lab
Patrick De Pádua . Lab
Ricardo Andrez
Ricardo Preto Homem
Ricardo Preto Senhora
Saymyname
Valentim Quaresma
SANGUE NOVO COMPETITION
Carolina Machado; Cátia Moreira; Daniela Ciolan; Duarte; Hermione Flynn; Inês Silva; João Barriga; João Oliveira; M Hka; Micaela Sapinho; Sofiya Malichenko
ModaLisboa Award: João Barriga
FashionClash Award: João Oliveira
PROJECTS / OTHER EVENTS
Fast Talks
Wonder Room
Workstation – Photo Exhibition
Portuguese Shoes – Apiccaps Exhibition
Future Archive – Miguel Domingos Photo Exhibition
Unmaking – Lara Torres Short Film