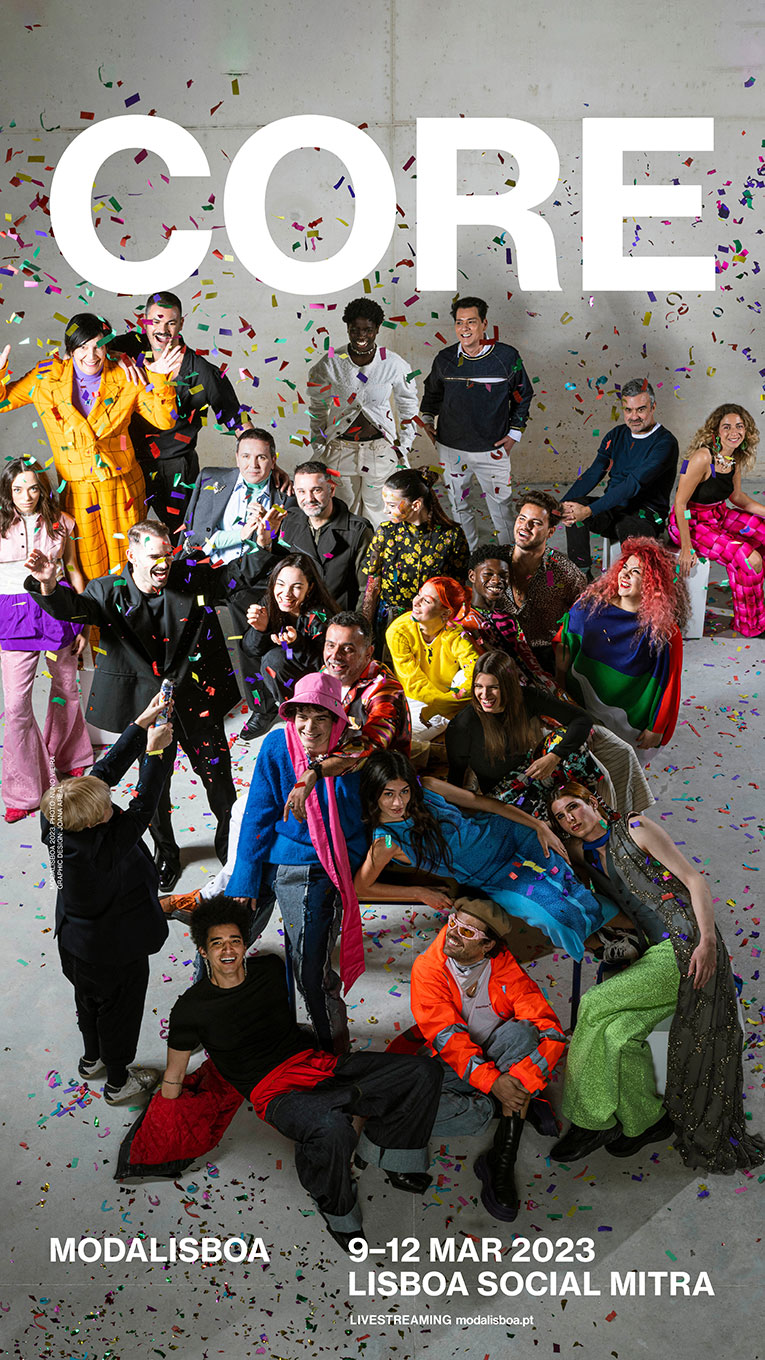 In co-organization with the Municipality of Lisbon, ModaLisboa reaches its 60th edition. From the 9th to the 12th of March 2023, we return to Lisboa Social Mitra, space of the Santa Casa da Misericórdia de Lisboa, to celebrate our CORE.
Lisboa Fashion Week will continue to build a platform for communication, visibility and empowerment of Portuguese Fashion, through presentations, happenings and fashion shows. But honoring the number 60 will always have to imply the amplification of our action — even when that opening means looking inward, and giving voice to what we are. So we stripped away all the other layers, edited it down to the core, and built an event on the plurality of our essence.
We decided not to conceptualize the word we chose for the 60th edition, and let the core do it. The Fast Talks, and the entire Lisbon Fashion Week, will be the construction of this theme, carried out by the Designers themselves. Their words, visions, voices, manifestos. The result will be a text published after MODALISBOA CORE, written by as many hands as those that make up our calendar. We don't know if it will be harmonious, if it will gravitate towards solutions or if it will provide context for the future. We know, however, that it will be ours. And that, being ours, is from Portuguese Fashion.
MODALISBOA CORE. At the core, the construction.
–
CAMPAIGN:
Concept, Photography and Art Direction: Nuno Vieira
Set Design: Beatriz Faria Ribeiro
Movement Direction: Inês Zinho Pinheiro
Video: Afonso Ponto, Eduardo Gonçalves, Simão Carvalho de Matos
Edition: Tezeu
Graphic Design: Joana Areal
Music: Elite Athlete
Make-Up: Antónia Rosa assisted by Frederico Simão, Sofia Amoroso and Michelle Lumière
Hair: Helena Vaz Pereira assisted by Madalena Costa and Isabel Miller for griffehairtsyle with L'Óreal Professionnel products
Models: Maura Soares (Just); Raquel Gorjão (Karacter); Martim Letria (L'Agence); Ariana (Best); Rainara (Face); Ariel (Face); Zaquel Mendes (Elite)
Styling: Ana Silva assisted by Lis Mulder and Pilar do Rio
Designers: Ana Rita de Sousa (Arndes); Joana Duarte (Béhen); Vera Fernandes (Buzina); Luís Borges (Call Me Gorgeous); Carlos Gil; Constança Entrudo; Dino Alves; Ana Duarte (Duarte); Filipe Augusto; Gonçalo Peixoto; Marta Gonçalves (Hibu); João Magalhães; Lidija Kolovrat; Luís Buchinho; Luís Carvalho; Nuno Baltazar; Nuno Gama; Olga Noronha; Valentim Quaresma
Special Thanks: Eduarda Abbondanza