MODALISBOA CORE: FASHION SHOWS
ModaLisboa Core, ModaLisboa
In co-organization with the Municipality of Lisbon, MODALISBOA CORE takes to Lisboa Social Mitra fashion shows and happenings designed to materialize the contemporaneity of the Fashion System.
With March 9th reserved for the Fast Talks (and not only, more information coming soon), the 60th edition of Lisboa Fashion Week will have three days of Fashion presentations dedicated to the creative diversity of Portuguese Design.
The unveiling of the new collections arrives in multiformat, with presentations that conceptually explore the meaning of "fashion show", complementing the classicism with performative moments that regenerate Fashion communication. But the MODALISBOA CORE schedule brings news beyond the runway.
Pavillion 1 at Lisboa Social Mitra will be a mutable space in constant transformation, responding to events that transcend the scenic specificities of a fashion show. On Friday, March 10th, Salsa Jeans begins by hosting a special, intimate presentation, accessible only by invitation. On Saturday, the day opens with Constança Entrudo, who returns to her performing moments to present a capsule collection in collaboration with the illustrator Ema Gaspar. On the same day, Portuguese Soul is the APICCAPS happening that revolves around the circularity of leather footwear.
Also a debut, and to consolidate ModaLisboa's mission of providing a stage for new talents in the industry, is the IED Graduates Fashion Show, on Saturday, March 11th. Under the theme Future Starts Slow, seven young Designers trained by the European Design Institute — Nicolò Artibani, Lorenzo Attanasio, Alessandro Bonini, Gaia Ceglie, Luca De Prà, Giovanni Marchetti and Maria Eleonora Pignata — present their capsule collections at Lisbon Fashion Week , inviting the public to slow down and appreciate the natural passage of time required by a sustainable Fashion production.
MODALISBOA CORE CALENDAR
MARCH 9
4:30 PM FAST TALKS PAV1
MARCH 10
5:30 PM SANGUE NOVO supported by SEASIDE
6:30 PM ARNDES . WORKSTATION presentation
7:00 PM SALSA JEANS strictly by invitation PAV1
8:30 PM FILIPE AUGUSTO . LAB
9:30 PM VALENTIM QUARESMA
10:30 PM OLGA NORONHA . LAB presentation
MARCH 11
2:00 PM CONSTANÇA ENTRUDO X EMA GASPAR . LAB collaboration launch PAV1
3:00 PM IED GRADUATES FASHION SHOW
4:00 PM LUÍS BUCHINHO
5:00 PM KOLOVRAT
6:00 PM BUZINA
7:30 PM PORTUGUESE SOUL presentation PAV1
9:00 PM LUÍS CARVALHO
10:00 PM BÉHEN . LAB
11:00 PM GONÇALO PEIXOTO
MARCH 12
2:00 PM JOÃO MAGALHÃES . LAB presentation PAV1
3:00 PM DUARTE
4:30 PM HIBU . LAB
5:30 PM CARLOS GIL
6:30 PM NUNO GAMA
7:30 PM NUNO BALTAZAR
9:00 PM DINO ALVES
10:00 PM CALL ME GORGEOUS BY LUÍS BORGES
MODALISBOA CORE. At the core, the construction.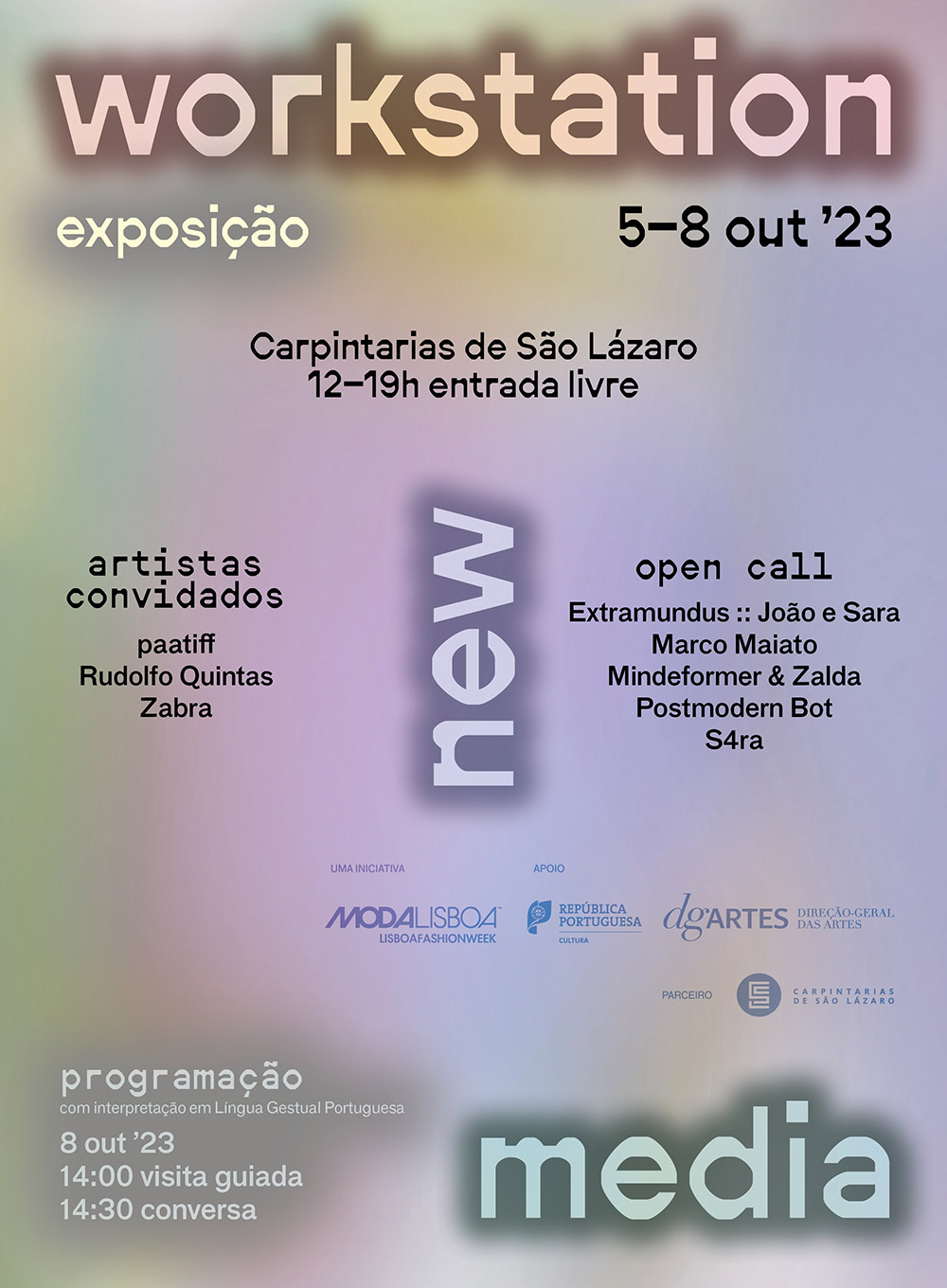 The physical and the metaphysical presented in an exhibition where AI, performance, 3D, sound, interactive media and emerging technologies are portals to what moves society we live in.